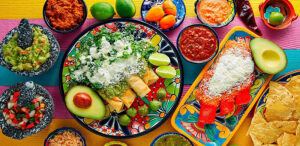 Enjoy with us our Mexican buffet!
Price
Adults $615.00 pesos Children $350.00 pesos
Inizio Restaurant
Every Monday 6:00 pm to 10:30 pm
Contact
Ext. 7307
Terms and conditions
Prices in Mexican pesos and include taxes • Prices do not include gratuity • No cash payment accepted • Member discount does not apply • Included in the all-inclusive program • This price is for children 4 to 11 years old.